I purchased a second-hand reel recently which has been spooled with a ESN/ CSN line – and I don't require the line. I am prepared to give it away for the cost of the Rio two-tone indicator spool and whatever it costs to ship it, ~$30.
The trader I purchased it from had the line constructed by The Complete Angler (in Chch) for use on the Tongariro and comprises a length of fly line (to be compliant) and then a (very) longish length of pink leader, to which the sight indicator is added to. It is on a 7-weight reel – but other than that, I know nothing.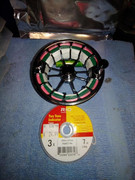 Send me an IM if it sounds like you.
Andy W