First thing is that our precious rods need to be well protected when traveling, especially flying regardless of whether that's long or short haul. Second thing is that weight is the enemy of the traveling angler; boots waders vests reels and all the paraphernalia we overload and burden ourselves with in the name of sport. You can hire waders from a lot of sport shops, or the fishing lodge where you're staying - they tend to have the odd gumboot out the back in the woodshed (check for spiders first), or you can just wet wade in summer. So I'm taking two 4piece flyrods but I don't want to take two tubes. Answer's obvious, bunk them into the protective sleeve and tube together if there's room and in my case I'm lucky because there is. A No.4 and 6 flyrod fits into the No.6 tube and once tied down there is no movement of pieces to rub or damage each other.
The tube will fit diagonally inside a large suitcase and we only take one when travelling for a couple of weeks to Godzone, along with two maxi 7kg cabin bags. Problem solved with weight and space saved.
Rod & Fly 6 weight sharing with a gold Redington 4 weight. Note the fighting butts courtesy Mitre-10.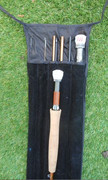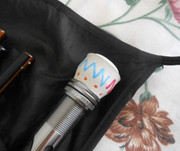 closeup of the artwork