Posts: 736
Joined: Sat May 10, 2014 3:01 pm
---
Posts: 50
Joined: Fri Sep 21, 2018 6:38 pm
Where does everyone else live?
---
Posts: 736
Joined: Sat May 10, 2014 3:01 pm
It's just the missus and the cat, and she takes up more room than anything else. Move her at your peril; she'll take your thumb off... ( the cat..)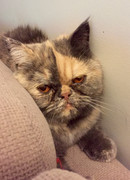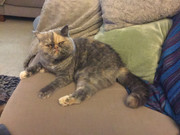 ---
Posts: 116
Joined: Mon May 19, 2014 3:44 pm
I can see a good use for that moggy! <grin>

End up in the drawer with the rest of the skins.......
---
Posts: 50
Joined: Fri Sep 21, 2018 6:38 pm
I approached our tabby with a pair of scissors once and ended up in the spare room for a week. Women have no sense of necessity !. Well at least the cat saw an opportunity and spent the week in comfort.
---
Posts: 306
Joined: Fri Apr 17, 2015 5:42 pm
I HEAR TELL THAT YOU STORE THOSE RARE AND PRECIOUS FUR & FEATHERS UNDER THE CAT
---
Who is online
Users browsing this forum: No registered users and 3 guests