Went out fly fishing with a mate one weekend and he took me to piece of river that I would have walked past on my own. It was narrow, fast, shallow, lumpy, white caps in places. You must be joking I said, won't be anything in there. Everyone walks past this "skinny water" watch and learn he said and I did because there were rainbows there, holding in scrapes and depressions on the river bed. It was summer and the water was well oxygenated, which was why they were there in the first place. He was using a small weighted flashback nymph and no mending or slack in the line. No casting except for the initial one, then as the line extended downstream and loaded, a flick of the wrist and back upstream. This was my introduction to what we called "shotgunning" working upstream covering a lot of water with short casts. We got fish.
Back in the South Island I used this method in the Gowan River Westland (pre didymo) as the water flows out of the lake at a very fast pace, with a weighted peacock herl nymph. The brown trout in this river are beautiful, golden, high CF and they fight like hell. Same method for the large bouldery North Canterbury rivers where browns hold in what could only be described as "washing machines".
When I fished Tongariro's Lower Birch pool, rainbows were all I hooked although I knew there were browns lying in the edgewater but they weren't interested in flashy stuff. In desperation I changed to a #14 PT on the dropper and caught two 8lbers one after the other from the same lie – horses for courses. This was the day my fishing mate Morton was demonstrating to a rapt (mostly female) audience on the bank about casting mending playing and landing and all the finer points of fly fishing. He was using his favourite nymph which he named "The Hard". Inevitably one of the girls asked what he had on. True story. John left us in 2016.
Getting back to nymphs, I use bright colours and a bit of sparkle for rainbows in fast & shallow water (2m long leader). A trout's window in less than a metre depth is fairly narrow so I want them to be able to pick up a fast moving deception. For a body, fluoro thread, chartreuse is good, lacquered, with a shiny bead up the front. Sometimes add an orange band midway along the body – they say this is an attractor. If you examine a scud from the riverbed (crustacean) some of them have an orange lump in the middle of their translucent body which is a parasite living inside them. I tie them with this feature. So a hard-bodied nymph with colour for rainbows and muted ones (they will take small peacock herl flashbacks) for browns.
Happy rodbending.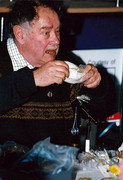 John Morton